As an award-winning Creative Director / Producer of video games, I've served in leadership roles on twelve video game projects from concept through post-production. In collaboration with many talented game developers my work has delighted global audiences, generated hundreds of millions of dollars in revenue and earned wide international acclaim.
I am the founder of 20after1 (TAO) a Seattle based collective of independent developers currently exploring Augmented Reality R&D for Google.
I am also the Co-founder and Development Director at Colabee Studios, an international collective of developers, storytellers and cultural experts on a mission to share and celebrate world culture through original video games.
Previously I served as Creative Director on Never Alone which shares the "World Games" mission. Never Alone earned a coveted British Academy Award for Best Debut and was named Game of the Year from Games for Change in 2015.
Those with whom I've worked regard me as a natural leader and motivator, adept at all manner of interactive design, storytelling, and problem solving. I love being at the epicenter of the creative process to develop games that delight, entertain and inspire.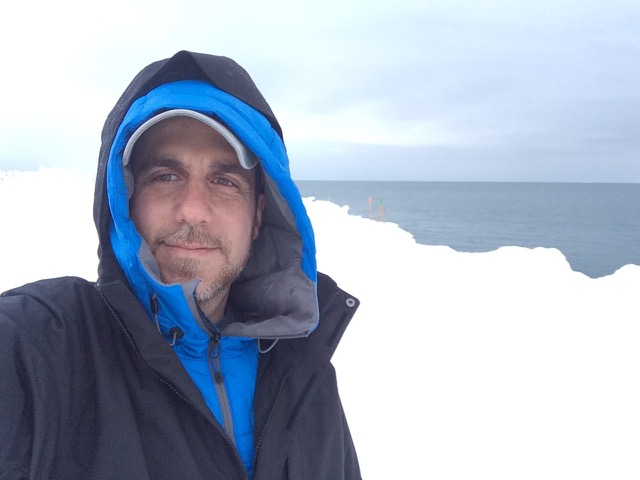 The view from the "top of the world" in Barrow, Alaska during development of Never Alone.
Additional career highlights:
Studio Director of renowned game developer Crystal Dynamics. Oversaw development and operations of a 200+ person dev studio to release three major productions in the Tomb Raider series in three consecutive years.
At Activision, I co-conceived and directed the cult-classic Interstate '76, served as Lead Game Designer on MechWarrior 2, and got to live out a childhood dream of working on a classic Activision game Pitfall, to help bring it to it's 16-bit glory.
Throughout my career I regularly provide independent design and development services to a variety of clients in the arts, education and entertainment industries under the 20after1 banner. Clients include Google ATAP, Microsoft Studios, Square-Enix / Eidos, Digital Kitchen, Infogrammes, THQ, 8DIO, Total Immersion Software, S.F. Jazz Heritage Center, the UC Berkeley Center for Labor Research and Education and the Cook Inlet Tribal Council.
I hold a BA in Studio Fine Arts from the University of Southern California's Roski School of Art & Design.
Gameography:
The Forest Song (Current), Development Director
Never Alone: Foxtales (2015), Creative Director
Never Alone (2014), Creative Director
Tomb Raider: Underworld (2008), Studio Director
Tomb Raider: Anniversary (2007), Studio Director
Tomb Raider: Legend (2007), Studio Director
Project: Snowblind (2005), Creative Director
Robin Hood: Defender of the Crown (2003), Development Director
Mech Warrior 4: Vengeance (2000), Design Consultant
Slave Zero (1999), Creative Director
Jet Moto 3 (1999), Design Consultant
Interstate '76: Nitro Pack (1998), Design Consultant
Vigilante 8 (1998), Design Consultant
Heavy Gear (1997), Design Consultant
Interstate '76 (1997), Creative Director
Mech Warrior 2: Mercenaries (1996), Design Consultant
Mech Warrior 2 (1995), Lead Game Designer
Pitfall: The Mayan Adventure (1994), Production and Design
Resume:
Contact:
svesce@20after1.com | linkedIn | @seanvesce