The Forest Song
In a forest filled with supernatural creatures, the player discovers a magic flute and gains the ability to relive key moments in their life.
Release: TBA
Role: Development Director
Platforms: PC, PS4, XB1
The Forest Song is a 1st person adventure video game adaptation of Lisova Pisnya (Лісова Пісня), a classic Ukrainian drama in which players assume the role of a peasant who has an extraordinary encounter with an elusive and powerful Forest Spirit. Their connection opens the player to a spirit world and sparks a dramatic clash between the supernatural inhabitants of the forest and the world of humans.
Production Notes:
We're developing The Forest Song now at our newly formed Seattle based studio, Colabee. I co-founded the studio with Dima Veryovka. I currently serve as Development Director overseeing all development and operational efforts. We're busy developing designs, prototypes and assembling a world class development team that includes game developers based in Seattle and Kyiv. In addition, we're working with a wide array of Ukrainian culture and folklore experts led by esteemed faculty of Taras Shevchenko National University of Kyiv.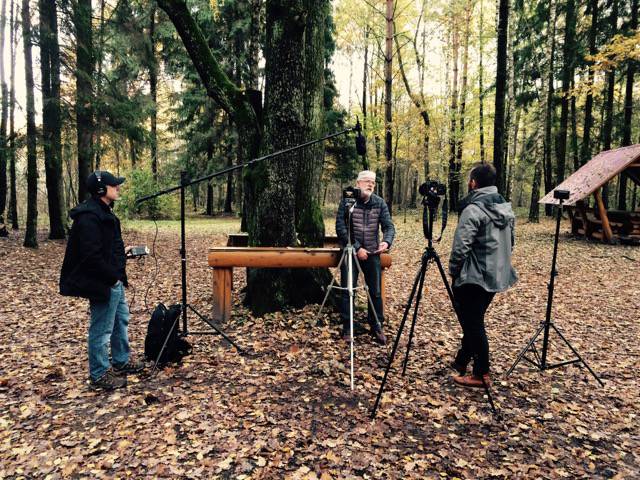 Colabees interview Oleksey Dolia, a folklore expert from the National University of Kyiv, in the forest that is said to have inspired Lesya Ukrainka to write Lisova Pisnya.
Our goal is to inspire a worldwide community of gamers, sparking their curiosity to learn more about the world around us and inviting them to experience rich real world mythologies and traditions in videogame form.
Awards:
Intel Buzz Workshop Seattle – First Place (2016)
IndiePrize – Best Game Narrative (2016)
Media Indie Exchange (GDC) – Official Selection (2016)
Media Indie Exchange (E3) – Official Selection (2016)
Links:
Colabee Studios: Official Website
Official Facebook Page
Latest Press